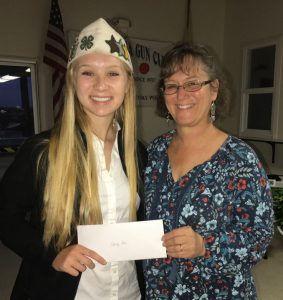 Four Leaf Clover Foundation encourages members to stay in 4-H all through high school by awarding scholarships for continued education – either college or vocational school. Above, Carly, a County All-Star and member of Gold Coast 4-H, accepts a $2000 scholarship from Four Leaf Clover Foundation director LuAnn Ames. Other 2017 scholarship winners were Brynn from Lucky Clover 4-H and Elizabeth from Playa del Sur 4-H.  2018 winners were Allyson Dias and  Kathleen Merrill, both of Vineyard 4-H and Anna Scheck of Lucky Clover 4-H.
High school seniors are encouraged to apply for a scholarship of up to $2000. Multiple scholarships awards are made based on active 4-H participation with emphasis on leadership, citizenship, community service and service learning accomplishments.
Download the College Scholarship Application form. Some browsers will open the application form, but not let you fill in the blanks. If this happens, download the pdf form and open it with Adobe Acrobat DC or another pdf viewer that supports pdf forms.
Complete the application form and have signed by applicant, parent and 4-H Leader.
Arrange for a Letter of Recommendation from a Community Leader or Leader from another club. (Use form that is part of the download package)
Arrange for a Letter of Recommendation from an individual who is familiar with your leadership and service learning activities.
Attach copies of your 4-H Personal Development Report. This year's PDR should be completed to date (including 4-H Story with emphasis on leadership and service learning) and signed by parent/guardian and 4-H Leaders. All pages must accompany the completed application. You must use the most recent California PDR long form.
Submit the completed application on or before April 21 of the current year.


Mail to:
Four Leaf Clover Foundation – Scholarship Committee
PO Box 451
Los Alamos CA 93441-0451
Or
Scan and email to scholarships@4lcf.org (preferred method)
If you have any questions, send an email to scholarships@4lcf.org.